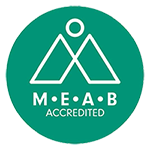 Great importance is placed upon partnership with parents who also play a vital role in every aspect of their child's care and development.
Below are excerpts from what parents think of LITTLE SPONGES ~ Montessori At Home.
The Montessori-inspired environment helped Leni grow her self-confidence and develop into a sociable person.
Yvonne Leibl,
Mother of Leni

Little Sponges is a special place. It's rare to find a nursery that combines focused learning, loving care and high specification facilities but Little Sponges does all that. My daughter Clara is a little shy but was happy and secure during her cozy sessions there. She soon became a much more confident child. My other daughter, Connie loved to work with Nicole who fostered a love of learning in her which she took with her to school.
The clean, bright, welcoming location is lovely for little ones who feel safe and comfortable from the moment they arrive. Nicole cares deeply for the children in her care and her passion for the Montessori method was enlightening for me as a parent.
Emma Jones,
Mother of Clara and Connie

Little Sponges is wonderful and my daughter is thriving in its happy, caring and rich environment. I haven't seen another nursery that equals it.
Sinead O'Callaghan,
Mother of Niamh

As a parent, I am extremely happy with the way in which all the staff helped with Navdeep's settling –in period. They were very patient and I never ever needed to worry about leaving Navdeep even if he was upset during his initial sessions. Now that he is settled in he is learning so much – I am very surprised how quickly he is learning things. I believe this is down to the staff's patience and excellent skills.
Jaswant Singh,
Mother of Navdeep

Little Sponges has become a traditional part of my children's growing and learning experience. They love it and we love it.
Jenny Potter,
Mother of Dylan and Natalie

Little Sponges has been a breath of fresh air! The staff and the physical space provide a warm, friendly and orderly environment; one that is conducive to development, provides calm with the opportunity for expression. My son has looked forward to going from Day One and, as a result, I can relax knowing he is in safe hands. He is happy and that makes me happy!
Rebecca Blech,
Mother of Orlando

Little Sponges is a calm and nurturing environment which embraces the idea that childhood is not a race, but rather an opportunity to enjoy, imagine and explore.
Nic Beaton,
Mother of Grace

If you are looking for a home-from-home for your child, then Little Sponges is the place. Just delighted.
Maddie Campbell-Jones,
Mother of Anoushka

I am amazed at the confidence my son has gained and how much he has learnt in such a short space of time. The staff at Little Sponges are fantastic and I am looking forward to my younger son starting with them soon.
Bhavisha Pindoria,
Mother of Shayen

Little Sponges is an ideal first-time-away-from-home experience. I have always left my children feeling confident that they are not just well cared for and nurtured but that they are in a truly loving environment where their welfare is of paramount importance.
Emelye Simpkin,
Mother of Edward

Miriam has been so happy at Little Sponges. The environment is superb and the staff ensure a warm, caring, creative and stimulating atmosphere. Thank you for helping our daughter to be so happy whilst learning so much.
Mark and Vera Wheatley,
Parents of Miriam

It is very hard to leave your child with someone else, and when Anna was starting nursery I was worried about her; because she was quite shy and didn't know the language. However, she quickly started to enjoy it. She is having a wonderful time at Little Sponges, as it has a warm, friendly and cosy atmosphere and every aspect of the nursery encourages learning through play for my child.
Ekaterina Tyukova,
Mother of Anna

Theo absolutely loves Little Sponges – he looks forward to his time with you and comes back brimming with enthusiasm, full of new ideas and of what he has learnt. Thank you.
Davina Wong,
Mother of Theo

Little Sponges is a safe and loving environment where all children are very much treated as individuals with individual needs. Gemma has thrived and flourished over the past year and has thoroughly enjoyed her time here. She has learned so much and developed in confidence. Thank you, Nicole and all the staff, for all your hard work, dedication and kindness.
Tessa Keane,
Mother of Gemma

Little Sponges is a very caring and loving environment. I feel confident leaving my daughter here.
Jayde Simpson,
Mother of Elliott

The loving and nurturing environment that my children have experienced over the last three years at Little Sponges has provided them with a level of security and confidence to prepare them for the next stage in life. A key factor in any early years education.
Caroline Knight,
Mother of Connie and Freddie